REVITALIZING SKINCARE WITH COENZYME Q10
Do you suffer from dull and tired skin? Our Q10 skincare collection revitalizes the skin with a boost of new energy and radiance and replenishes dry skin with lipid-rich ingredients and hydration.
---
COENZYME Q10 
Revitalizes Dull & Tired Skin
CoQ10 - ACTIVE INGREDIENT TO BOOST CELL ENERGY
---
The Q10 collection combines two highly effective anti-aging ingredients: Our hydrating and collagen-boosting Celumer Marine Extract and the vitalizing coenzyme Q10, also known as ubiquinone. This unbeatable duo works to give tired skin a boost of energy, moisturizes dry skin and protects against premature skin aging.
Its unique structure allows the Celumer Marine Extract to penetrate deep into the skin, where it delivers its anti-aging benefits and supplies the skin with vital nutrients. At the same time, it helps to carry the coenzyme Q10 into the deeper layers of the skin, where it promotes cellular energy production and skin regeneration. On top of boosting cell activity, coenzyme Q10 has powerful antioxidant properties that protect the skin from oxidative stress. Thanks to this potent combination of ingredients and the addition of lipid-rich oils, the skin is better able to retain moisture and can regain its natural elasticity.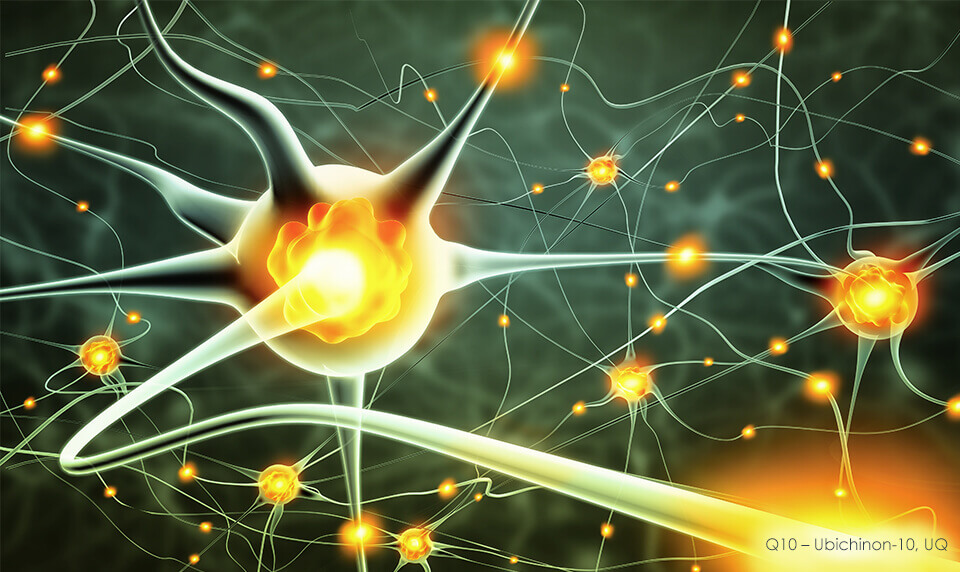 BEST PRODUCTS TO CARE FOR TIRED, DULL AND DRY SKIN

Studies have shown that the coenzyme Q10 has an enormous potential to stimulate cell activity: Just two hours after applying CoQ10, the skin's energy levels are up to 90% higher than normal. Products formulated with CoQ10 promote cellular energy production and a healthy cell metabolism, which leads to better skin elasticity and a fresh, radiant complexion. This makes our revitalizing Q10 collection ideal for tired-looking, dull and dry skin.

---
Q10 
Skincare for Dry and Dull Skin
---

---
Q10
Energy Boost for Tired Skin
Revitalizing Skincare with Coenzyme Q10 – Ideal for Dry and Dull-looking Skin
---
Make tired and dull skin glow again – that is the goal of our Q10 collection. The coenzyme Q10 promotes cell activity and thus increases the skin's energy levels. The result: Weak, dull and sallow skin can regain its natural radiance.
Hydrating & Radiance-Boosting Products with CoQ10
The antioxidant-rich Q10 Cream nourishes and moisturizes stressed and tired skin with nurturing jojoba oil and allantoin. It contains tiny red pearls filled with highly-dosed Q10, that burst when applied to the skin and release the active ingredients to be easily absorbed. The vitalizing Q10 Emulsion is a more lightweight alternative to the cream. It absorbs quickly and leaves a fresh and glowing complexion. Depending on the season, your skin type and personal preference, you can alternate between the rich cream and the light emulsion. The concentration of active ingredients is identical in both moisturizers.
The Q10 Anti-Aging Serum infuses dry skin with intense moisture and the energizing coenzyme Q10. The red Q10 pearls promote cell renewal and cell regeneration and protect the skin against oxidative damage thanks to their powerful antioxidant properties. Apply before your moisturizer to enhance the revitalizing effect. For smooth, supple and radiant skin.
The vitalizing Q10 Face Mask offers an instant boost of freshness for tired skin. This supple facial mask provides dry and stressed skin with high-quality oils, vitamins and Q10 pearls that protect the cells, stimulate the skin's metabolism and thus restore dull skin to its former radiance. The cream mask can also be used as a leave-on mask overnight.
The thin and sensitive skin around the eyes needs special attention and care. The Q10 Eye Cream visibly smooths fine lines and wrinkles and leaves the skin looking radiant and refreshed.
Our refreshing Q10 Anti-Aging Ampoules provide the skin with an extra boost of energy. The highly-dosed formula absorbs quickly and leaves a fresh, natural glow.
Stress, dryness and dullness can affect the skin on the face, as well as the body. Our Vitalizing Emulsion provides the skin with high-quality lipids from head to toe. It moisturizes dry and flaky skin, while the Q10 pearls improve skin regeneration. This anti-aging body lotion leaves the skin feeling soft and supple with a wonderful fragrance.